Transaction code is a trading voucher issued by the only spot gold exchange in Hong Kong – The Chinese Gold & Silver Exchange Society (CGSE). With the transaction code, clients could check the authenticity of the transaction with CGSE to ensure fairness and justice.
Acetop strives to provide clients with secure and stable Loco London Gold/Silver trading services. All transactions traded with us with 5 lots or above in a single transaction will be provided with a transaction code for free on the same day of trading regardless of whether a transaction is open or closed. What clients need to do is to simply login the User Center and choosing Trading Information and Transaction Code Inquiry.
Trading with transaction code indicates that clients' transaction time and execution price have been verified by CGSE to be in line with market conditions. Clients could check trading record on CGSE website through transaction code within one month only.
*Clients may also pay for a transaction code for trading less than 5 lots.
Clients who would like to check their transactions please go to CGSE website: enter transaction code and click "Go", and they will get the related result.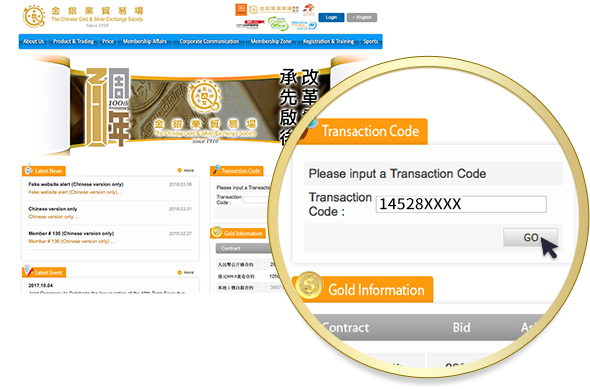 Date & Time: Transaction date and time
Contract: MLG/LLG/MLS/LLS
Ref. No.: Transaction Code
Buy/Sell: B/S
Price: Trading Price
Quantity: Trading Quantity
Member's No.: Acetop Precious Metals Limited
EX145
As CGSE provides two types of contracts for each Loco London Gold/Silver products, clients may refer to the following list when inquiring trading record at CGSE.