Acetop Precious Metals Limited provides investors with low-cost and high-efficient trading methods. The trading method is simple, direct and efficient and the whole process of opening an account, opening and closing a position, and deposit/withdrawal is simple and clear.
Learn entire process from how to open an account, trading methods to deposit/withdrawal in 5 minutes:
Open an Account and Login Trading Platform
For example, an investor called Mr. Wang would like to open an account with Acetop. Firstly, he clicks the "Real Account" button on our website www.igoldhk.com to fill in personal data and read client agreement. Then he transfers money and the whole process takes around 10 minutes from filling information to remittance.

In 10 minutes, finance department confirms money has arrived and starts to process account opening. Mr. Wang receives an SMS with trading account and initial password to login the trading platform 10 minutes later. After logging into the trading platform, Mr. Wang notices that the balance of trading account has been converted to USD in equivalent, and he is ready to start trading after changing password. Mr. Wang has already downloaded trading platform previously and is familiar with the operation of the platform using a demo account.
Open and Close a position
Mr. Wang knows that the trading platform adopts international quotation in USD per ounce with a fixed margin model. The margin is USD1,000 for either 1 lot Loco London Gold or 1 lot Loco London Silver. As the minimum trade volume is 0.01 lots per transaction, the minimum trade value of Loco London Gold per transaction is 1,000 x 0.01 = 10 USD, and 10 USD for Loco London Silver as well.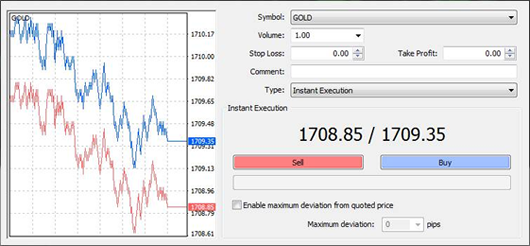 After clicking "New Order" button on the trading platform, a window to open a position will pop up. Clients could select type (LLG or LLS) and volume of a trade and click "Buy" or "Sell" button to determine direction to complete opening a position.
Mr. Wang transfers 3,000 USD in equivalent when opening an account, therefore the account balance in the trading platform is 3,000 USD. He decides to buy 1 lot of Loco London Gold when the price is 1,800 USD/ounce (1,000 USD is required as margin). And when the price goes up to 1,805 USD/ounce, the profit at the time shows 5 x 100 = 500 USD (1 lot Loco London Gold is 100 ounces). The balance is still 3,000 USD (balance will not change until the position is closing and will not be affected by floating position or profit/loss). Mr. Wang decides to close position and the balance turns to 3,500 USD owing to 500 USD profit of the trading.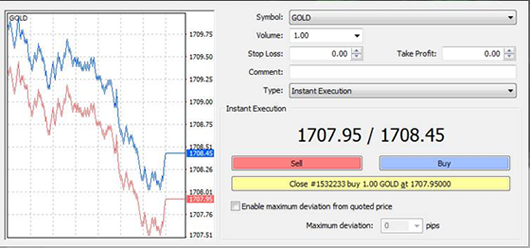 The order will be displayed in the list below the trading platform after opening a position. A window as above will pop up when double clicking the order in the list. Clicking on the yellow long bar could close the open position in real time. Trading time is from Monday 6:31am to Saturday 3:30am when trading is non-stop operating 24-hour every day and clients can open and close a position anytime.
There are risk management functions such as pending orders and stop-loss and take-profit settings in addition to opening and closing position.


Handling fee is charged when opening a position and it is called spread. Bid price minus ask price is spread. The price corresponding with the "Buy" and "Sell" button when placing a trade is the bid price and ask price. The buy order is closed at the ask price, and the sell order is closed at the bid price.


For example, standard spread of Loco London Gold is 0.5 USD/ounce which means bid price – ask price = 0.5 USD. Assume that current bid/ask price is 1,000 USD/ounce and 999.5 USD/ounce, if a client opens a long position at 1,000 USD/ounce then the closing price is 999.5 USD/ounce in the circumstance that the price does not change. The loss of client is 0.5 USD which is the spread after both operations of opening and closing a position, however we only charge once. In addition, standard spread of Loco London Silver is 0.03 USD/ounce.


Currently the rebate is up to 26 USD/lot for Loco London Gold/Silver. Real-time rebate is default after closing positions and the rebate amount could be withdrawn directly or kept in the MT4 terminal for further trading.


After earning USD500, Mr. Wang decides to make a withdrawal of 1,000 USD. He informs customer service of such request with current balance and the amount to withdraw. 1,000 USD is deducted from Mr. Wang's trading account and two hours later RMB in equivalent of 1,000 USD reaches the bank account of Mr. Wang when opening an account with us. Meanwhile, Mr. Wang receives a SMS from customer service to check the fund.


One day later, Mr. Wang finds out the market condition is suitable for opening a position and intends to deposit 2,000 USD to his trading account. He clicks the "Deposit" button on our website at www.igoldhk.com and transfers RMB in equivalent of 2,000 USD through online banking. Upon success of the transfer, Mr. Wang informs customer service and finance department adds 2,000 USD to Mr. Wang's trading account after confirming the money has arrived. It only takes 10 minutes to complete the whole process.
Mr. Wang is very satisfied with the efficient and convenient service provided by Acetop Precious Metals Limited. The powerful functions of real-time opening and closing positions at international price 24 hours of MT4 trading platform enable him to be handy in gold and silver investment. Acetop has been a good partner for Mr. Wang to invest in gold and silver.
(24 hours withdrawal at any time; clients can request a withdrawal simply by providing trading account, name, account balance and amount to withdraw; unlimited times and amount for withdrawal and money arrives in 2 hours at the soonest. The currency arrived depends on the country where the bank account is being used for withdrawal: RMB in mainland China; HKD in Hong Kong; USD in other countries/regions. The minimum initial deposit amount is 50 USD subject to clients' own needs.)
24 hours professional customer service
Our team of strong professional customer service provides 24 hours* 7 days high-quality service. Investors around the world could inquire and conduct various business anytime and anywhere. If you have any questions, please feel free to contact customer service.